Disclosure: This post may contain affiliate links. Please see our full disclaimer to learn more.
The 2021 Wedding Trends That Work Beautifully For Small Weddings
It's impossible to write a 2021 wedding trends post without mentioning the pandemic. A lot of the current trends have been directly influenced by COVID-19 and the ever-changing restrictions. It's been an emotional rollercoaster, with many heartbreaking moments (calling to cancel someone's special day is never easy) but also plenty of silver linings.  
Despite the restrictions, the desire to wed in 2020 didn't fade. More than a million couples still married in the US. Zoom weddings, socially distanced services, and extra health and safety measures showed the determination of couples and vendors alike.
Nothing was getting in the way of love. 
Many of the 2021 wedding trends show that even though we're nearly two years into the pandemic, we're still adapting how we celebrate. But as we move into the second half of the year, we're all navigating this difficult time a lot better.
Couples are approaching their planning with an open mind, even daring to book meaningful ceremonies that deviate massively from their original wedding vision.
With this open-mindedness comes fresh creativity, freedom, adventure, and a camaraderie that may otherwise never have been discovered. 
With that said, here are our top 15 wedding trends that look great for the latter half of 2021.  
Trend 1: True Elopements
Rather than waiting for restrictions to be lifted, more and more couples are planning their wedding without guests, redefining the idea that elopements are all about slinking off in secret. Under COVID restrictions, a true elopement is easier to plan. And for some couples this wedding style can relieve the anxiety of trying to get people together. To help couples embrace this rising wedding trend, we launched our Just The Two of Us package in 2021.
Trend 2: The Rise of the Micro Wedding
Pre-pandemic, the micro wedding trend was a whispered phrase on the lips of the wedding industry. Having a small guest list (5–50 people) was considered radical. But in the space of a year micro weddings have become a hot topic. Couples are realizing this small wedding style can give them the perfect balance between intimacy and socializing with guests, and eliminate the traditional wedding problem of not spending enough time with everyone. Lower guest counts are also more budget friendly, satisfying many couples' desire to offer their guests a complete experience. 
Unfamiliar with this type of wedding? Here's why micro weddings are the wedding style for 2021.
Trend 3: Weekday weddings
Saturdays and Sundays will always be the most popular days for weddings. But we've seen a rise in weekday ceremonies. Here are a few reasons why we're seeing it more in 2021.
With many 2019 and 2020 weddings being postponed until 2021, many weekend dates were booked long before the year even began.
Smaller guest counts (or no guests) offer greater flexibility when it comes to choosing the date and day.
Couples are realizing, and capitalizing on, the lower weekday fees many venues offer.
This wedding trend probably helped a lot of couples book their first-choice venue in 2021, rather than having to wait even longer to tie the knot.
Trend 4: Pre-Moons and Super Mini-Moons
With long-distance travel still off the cards, and 63% of Americans saying they "desperately" need a vacation, more couples are booking not just the day they need for the wedding off, but also extra vacay time. Doubling down like this isn't a new destination wedding trend. But what is new is the increasing number of local couples taking more time off to explore what's on their doorstep. Until more borders open up, we expect to hear that more couples, families, and friends are staying close to home and using the occasion to indulge in some local adventures. 
Trend 5: Kids Welcome
One of the more interesting changes in small wedding trends is including children, either as guests or starring as ring bearers, flower girls, and bridesmaids. While traditional wedding guest lists often include kids, this hasn't filtered through to elopements and micro weddings until recently. School closures, or realizing that having the whole family together is rare these days, could be the catalysts for this change of heart. 
Trend 6: Mini Receptions
More than 200 couples booked our mini reception add-on in the first half of 2021—that's 16% more than at the same time last year. And it seems couples want playful cake options. Serving individual cupcakes and donut stacks are proving more popular than ordering a single, larger cake shared among guests. 
7: Party Later
Forty-seven percent of couples who went ahead with their wedding service in 2020 postponed their reception party. And as we roll through 2021 and into 2022 we expect this trend to continue, with couples who want big receptions hanging out for the approval of larger gatherings. For CCW couples going down this route, we've heard that including a vow renewal or 'second ceremony' is usually on the cards. 
Trend 8: Small Wedding, Stunning Scenery
Elopements and micro weddings may demand a small headcount. But when it comes to venue size, the big outdoors is better. This desire for fresh air and stunning views has prompted us to expand our portfolio. Big vista venues such as Red Rock Canyon and El Dorado Canyon are currently our most popular 2021 outdoor wedding sites. 
Trend 9: Green Thinking
As a partner of the Leave No Trace initiative, we're encouraged to see more 2021 wedding plans taking a considered approach to sustainability. Second-hand wedding outfits, upcycled décor, thrift-store accessories, and buying locally are just a few of the sustainable wedding trends we're seeing couples explore.  
Trend 10: Dried Florals
Centerpieces, boutonnières, and bouquets fashioned from dried flowers, seedpods, leaves, and grasses are making their way from ceremonies with boho vibes into all styles of small weddings. The everlasting quality of dried florals makes them a more economical (and eco-friendly) option compared to cut flowers, with careful dyeing banishing fears of colorless hues dominating the color scheme.  
Trend 11: Live Acoustic Music
Bluetooth speakers and pre-recorded music are being ejected in favor of live musicians. In the past four months we've seen an 11% increase in the number of bookings for our live musician add-on. We expect the dollars put aside to pay for a larger wedding is now being redirected to more intimate extra touches, such as having a special song played live rather than through speakers.  
Trend 12: Guest Transport
As a company that specializes in booking ceremonies in offbeat, out-of-the-way locations, this is a 2021 wedding trend we're pleased to see more of. Hiring a minibus for guests, or a limo for the bridal party, reduces the risk of people getting lost on the way to the ceremony or reception venue and delaying the wedding timeline. 
Trend 13: Bold Suits
Move over designer dresses. This year's wedding fashion is as much about statement suits as it is about 'the dress'. Whether it's the groom, groomsmen, or bride wearing a suit, the trend is for outfits that challenge this traditional get-up. Think bright shirts with the more conventional black, blue, or grey jacket and pants; patterns rather than plain fabric; Converse and open collars instead of shoes and a tie. 
Trend 14: Pandemic Inspired Wedding Favors
Personalized facemasks, mini hand sanitizers, and travel tissues are just a few of the pandemic-themed wedding favors we expect to keep seeing in 2021 and 2022. They're practical, promote health and safety at your wedding, and even add a bit of light relief. The thought of gifting—and your guests appreciating—hand sanitizer and a facemask in 2018 and before would have been laughable. Now they're indispensable. 
Trend 15: Celebration Boxes
During this time of distancing and missed meet-ups, couples are looking for inventive ways to connect with absent guests. Mailing celebration boxes satisfies that want. These boxes are a touching gesture that gives a flavor of the day to those who couldn't attend. They may contain edible treats; the wedding day menu complete with recipe cards; and a USB drive filled with official wedding photos, prerecorded speeches, and playlists. We love this trend so much that we recently added it to our menu of extra touches.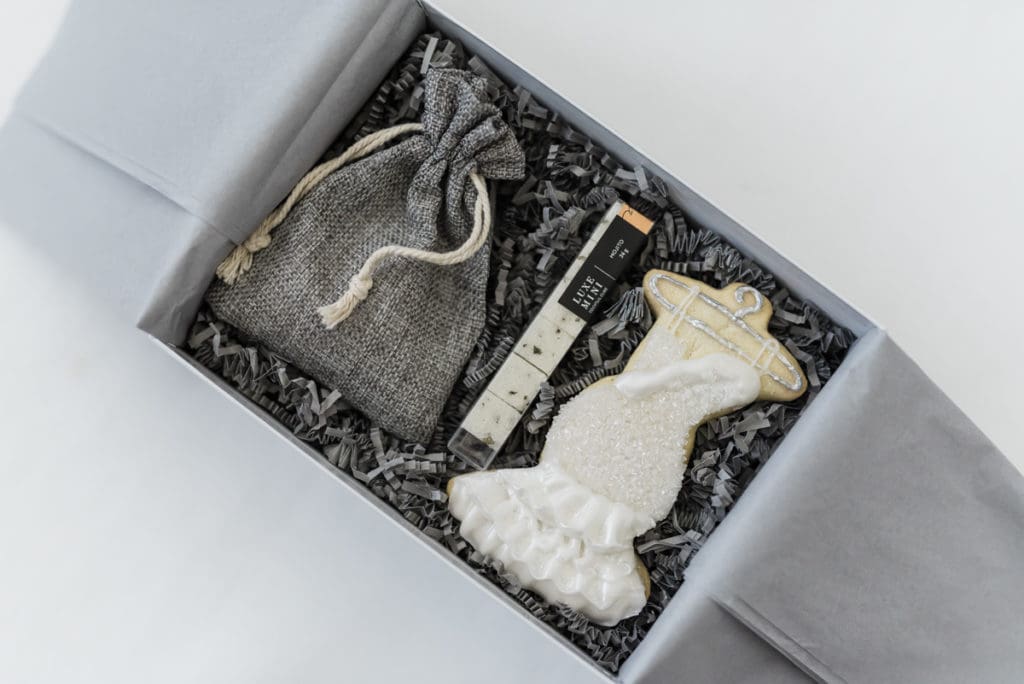 Looking for more wedding trends and inspiration?
Whether you're trying to plan your wedding around COVID-19, need advice on the micro wedding essentials, or want to know all there is to know on marrying in Las Vegas, our destination wedding resources have got you covered.