Disclosure: This post may contain affiliate links. Please see our full disclaimer to learn more.
These two met at a good old fashioned rodeo 3 years ago. Brooke was running barrels and Dakota was dragging around a cooler full of beer when her good friend from college, Kaci Jo, introduced the two. Not your typical first meet story!
The two became friends on Facebook but didn't think much more of it until a few years later when Kaci Jo started dating her now fiancé, Blake, who was working and living on the same ranch as Dakota. After many attempt from Kaci Jo and Blake to set them up, the two finally bonded over a tattoo of all things.
Dakota texted her about her new tattoo (being a fan of the ink) and they started texting non stop after that.
Dakota proposed on Easter Sunday during a well-planned adult Easter egg hunt. Brooke's egg had 5 dollars in it and Dakota's had an engagement ring! Much to her shock he opened his egg, got on one knee and asked for her hand in marriage.
When the couple started making their wedding invite list, they realized they had 350 plus people on it and quickly grew overwhelmed. They wanted something more intimate but knew that even if they had a small church wedding, with the size of both of their families, it would be bigger than they wanted.
When they remembered that they go to the National Finals Rodeo in Vegas every year they thought "why not get married while we're there?" They didn't want a run of the mill Vegas strip wedding with an Elvis impersonator though so when they found Cactus Collective they were thrilled.
Brooke got her hair and makeup done at Color Salon at Caesar's Palace and loved the experience. "Kate Stromberg was my makeup artist and she was absolutely WONDERFUL! Absolutely recommend!" says Brooke.
Her dream dress was from Always and Forever in Fort Smith, Arkansas. She saw a picture of it on Instagram and fell in love and when she tried it on, it fit like a glove.
The couple added a few personal, sentimental touches to their big day. They had Brooke's grandmother's wedding bible with them and their cake topper was from her parent's wedding day!
They made it their own by having her grandmother and aunt add succulents and rhinestones to it to match their aesthetics. "Both were huge staple pieces and meant the world to me. I loved having them as part of our day!" exclaimed Brooke.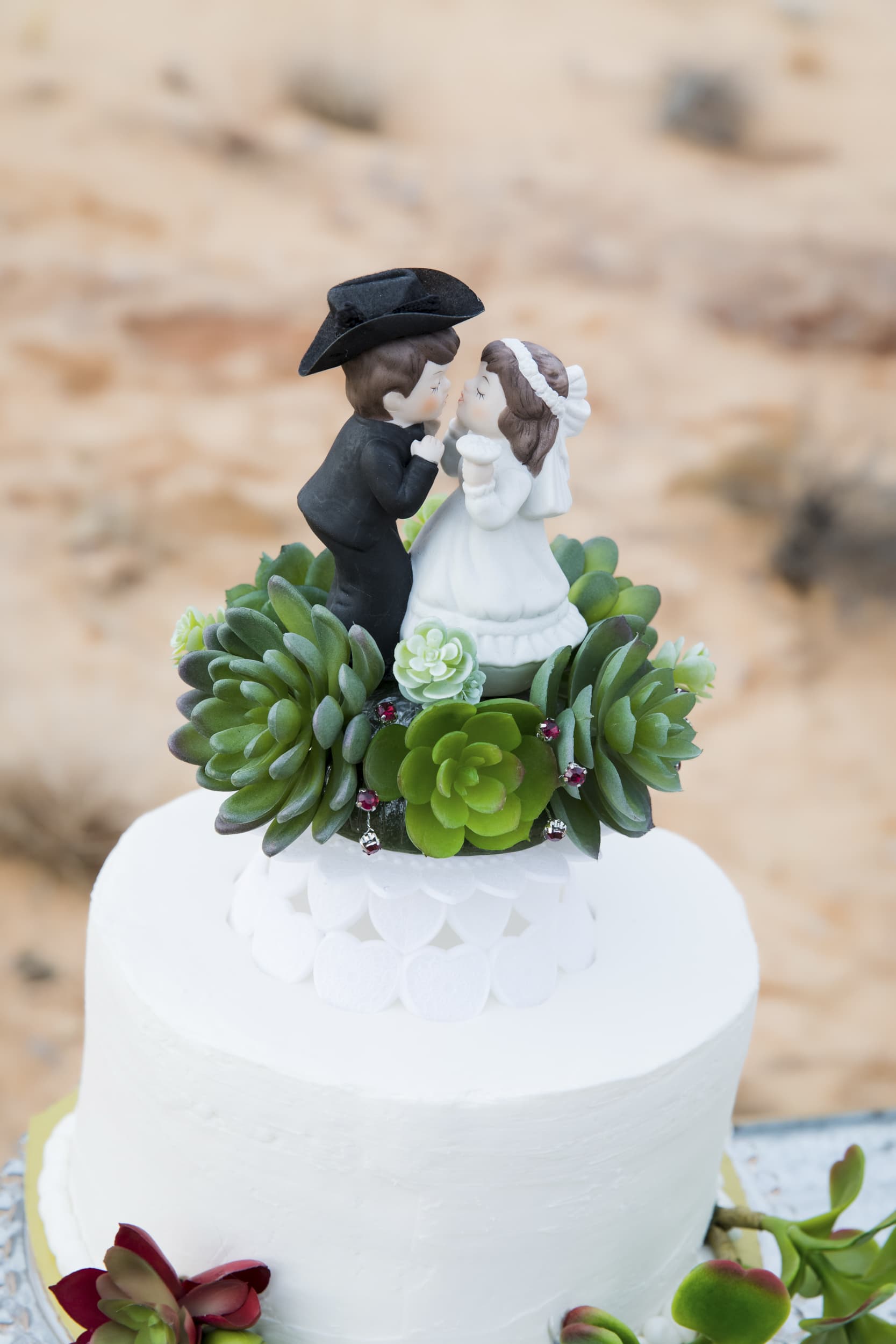 They had a few silly moments that they cherish as their favorite parts of the day.
"My favorite moment was my Uncle Don commenting on how pretty my dress was as I was getting settled up front and my Aunt Jan hushing him, causing everyone to laugh," says Brooke, "or when our minister asked for the rings, and my dad saying "he lost them" and everyone also cracked up."
These are truly the moments you can't replace and we were so glad to be a part of it all.