Disclosure: This post may contain affiliate links. Please see our full disclaimer to learn more.
The days of grooms automatically opting for a simple gold wedding band are a thing of the past. Nowadays, more people are choosing truly unique groom's rings, ones that show off their particular style and vibe. And why not? Your ring will be worn everyday for the rest of your life; so why not make it special.
When it comes to picking out the perfect groom's ring, we suggest shopping together as a couple. After all, tradition dictates that the bride will likely be paying for it, and she may want to have a say in how much the ring costs. In 2020, the average cost of a groom's ring ranged from $389 to $547.
Another good reason to shop together – most couples like to have a bit of symmetry between their rings. In other words, if the bride's ring is a silver solitaire, it might seem odd for the groom's ring to be a gold band. Now for the disclaimer. This tradition isn't set in stone. There are all types of groom's rings out there. If you and your intended have wildly different styles, go for it.
It's your marriage and your individual personal style. Remember to have a conversation about style and symmetry before hitting the jewelry store, though. It will cut down on awkward conversions in front of a salesperson. You really want to be on the same page on this topic.
While shopping for the ideal groom's ring, you'll also need to consider material. About one in four grooms choose tungsten as preferred metal for their rings.
Other popular metals include titanium, palladium, gold and white gold. Some couples even opt for platinum groom's rings, though they tend to be on the more expensive side.
The type of material will vary based on a groom's style, but it might also depend upon their job or even hobbies. If the groom works with his hands and plans to wear the ring on the job, he'll want to choose a strong material that is scratch resistant, such as titanium or even tungsten. Unfortunately, both of those materials have some down sides, including that they are difficult to resize and tungsten can be heavy.
Ceramic rings are also becoming popular because they allow for truly unique styles and colors, but couples need to keep in mind that ceramic can easily break if dropped.
If the groom works in a career that requires heavy-duty hands-on work, you might want to consider also purchasing a silicone ring to wear on the job. These rings have become more popular as they are non conductive, heat resistant, durable and will break away when snagged.
Couples need to also consider how a groom's ring will fit. Does the groom have thick fingers, thin fingers, wide knuckles, etc? All of these things come into play. If you have fingers that narrow dramatically at the tip, make sure your band fits snugly enough not to lose. If you have large knuckles but narrower fingers, you might have to go a bit bigger to get the ring over the knuckle. Make sure it can't slip off or you'll be crawling around under a movie theater chair one day looking for a ring that fell off during that horror flick.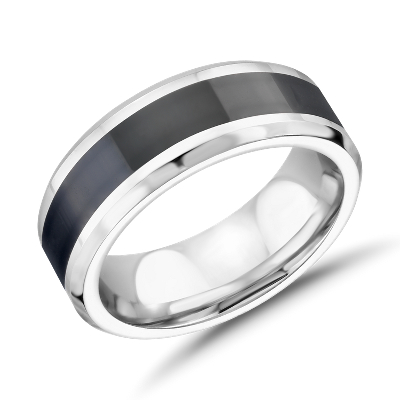 Ceramic Center Inlay
Buy on BlueNile.com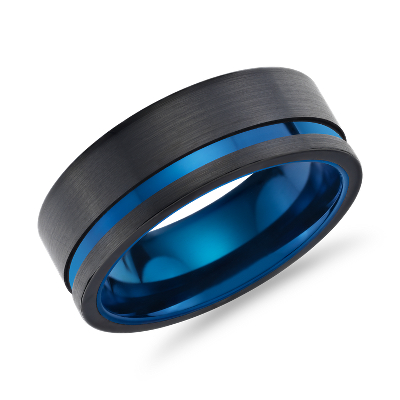 Asymmetrical in Blue & Black
Buy on BlueNile.com
Fit will also depend on which hand you wear the ring. In the United States, most grooms wear their rings on their left hand. But in other countries, such as India, German and Norway, grooms wear their wedding rings on the right hand. One hand might be larger than the other so make sure to ask any salesperson to measure your fingers carefully.
There you have it. A guide to choosing the perfect groom's ring. Enjoy the hunt and while you're in the shopping mood, don't forget gifts for the groomsmen. There are plenty of great gift options to show your friends just how much you appreciate them. Here are just a few to consider.